DeWalt DCS570 vs DCS575
If you want to buy a DeWalt saw then you are most likely selecting between DeWalt DCS570 vs DCS575. They both are great but which one is better? Which one to buy? This comparison will help with your purchase decision. I have shared my personal usage experience here.
When you look at these saws you may think: they are absolutely identical. But they are not. There are some differences and these differences may affect your choice a lot.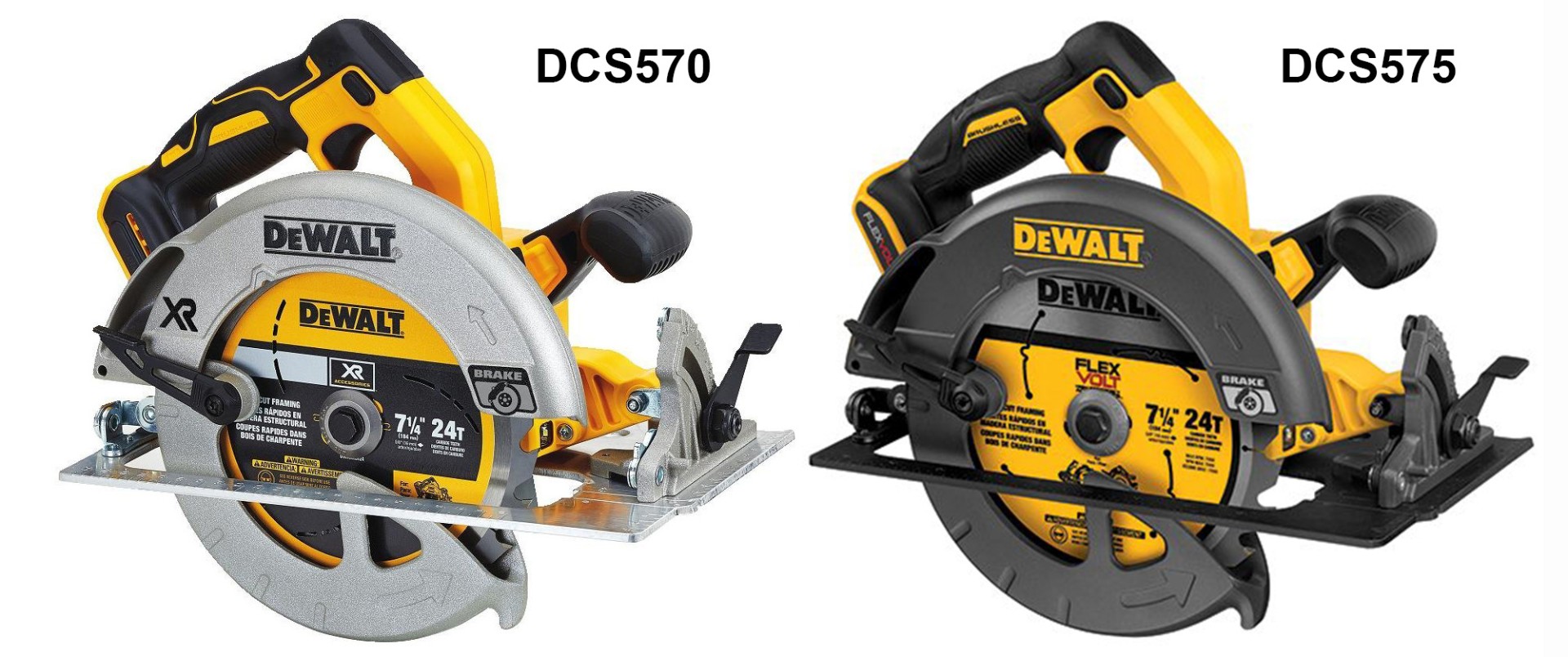 DeWalt DCS570 20V MAX was released earlier, so it's an earlier model while DCS575 60V FlexVolt Saw was released later on. It's more advanced in some characteristics.
The appearance of both tools is pretty much identical. They are both very well made, they are ergonomic and are comfortable to use. The most noticeable difference is the color of the shoe and saw blade protector. DCS570 has aluminum shoe without any cover while on DCS575 these parts are covered with a dark-grey matte cover. I don't know how long it will serve before this cover is damaged and you will see the metal itself.
The other difference is that the newer model has a little bit more rubber on the handle. And that's pretty much all. Other design features of both products are the same and I am not going to describe them here.
Battery
The former DCS570 uses 20V battery. If you order the bare tool the battery will not be included. Keep this in mind when making an order. But the cool thing about this model is that you can equip FlexVolt batteries into it! If you replace standard battery with FlexVolt you will get a huge boost in working time. It will be able to work up to 3 times longer. Many of the reviewers recommend doing this.
Some people also mention that replacing 20V battery with 60V also gives saw a power boost but that's not correct. Just a simple switch from 20 to 60 V can't increase power of the saw.
As for the DCS575 it also doesn't include the battery if you purchase bare tool. And it can use FlexVolt batteries ONLY! If you have several standard DeWalt batteries at home and are going to use them with this new model of saw you will fail.
Anyway, purchasing a new FlexVolt battery isn't a big deal. If you have bo batteries you should definitely purchase DeWalt Saw kit with 2 batteries included. Here is a comparison of the two kits for both models.
Model
DeWalt DCS570
DeWalt DCS575
Bare Tool

(1) 7-1/4" (184mm) Circular saw
(1) 7-1/4" (184mm) Blade
(1) Blade changing wrench

(1) DCS575 7-1/4" (184 mm) Circular Saw
(1) Blade
(1) Blade wrench

Kit

(1) 7-1/4" (184mm) Circular saw
(1) 7-1/4" (184mm) Blade
(1) 20V Lithium-ion battery
(1) Fast charger
(1) Blade changing wrench

Pay attention that this kit comes with only one battery!

(1) DCS575 7-1/4" (184 mm) Circular Saw
(1) DEWALT 7-1/4"(184mm) diameter saw blade
(2) 60V MAX* Lithium-Ion battery packs
(1) Fast Charger
(1) Blade wrench

This kit contains two batteries which is great for usability.
As you see, the DEWALT DCS575T2 FLEXVOLT 60V MAX Brushless Circular Saw with Brake and 2 Battery Kit, 7-1/4" has two batteries included, which is very good. It allows you to work the whole day long replacing one battery with the other.
You should also know that 20V batteries are not so comfortable to use because the power indicator looks down. You have to pick up the saw and press the button which isn't easy to reach in order to check the remaining power. FlexVolt batteries don't have such problem. The indicator looks straight on you and it's very easy to check power level.
Motor and Power
Technically both models we are comparing are different. DeWalt DCS575 FlexVolt has more power but the difference is not so huge. You will barely see it. It also has more RPM: 5800 vs 5200. Maybe that's why a lot of people notice the difference in power. The latter model just has more RPM and thus can cut the lumber faster.
Conclusion
Personally, when I compare the older and the newer models I usually recommend buying the newer one. The same is about these saws: the DCS575 is just simply better. It has increased working time with default battery and it has more RPM which allows working faster. The disadvantage is that if you don't have FlexVolt battery you will have to buy it because the saw doesn't work with 20V MAX batteries.
Does this mean that DeWalt DCS570 is now useless? Absolutely not! It's almost as good as DCS575. It may be a very good New Year or Christmas present if you don't want to overpay. You may also buy it if you have many 20V Max batteries at home and you don't want to buy FlexVolt.
As for me, the winner is DeWalt DCS575, so if you want to buy one of these saws I would definitely recommend going with it. It's the most advanced saw made by DeWalt right now.