Olson Saw PG49802 Scroll Saw Blades Review
Olson Saw PG49802 Precision Ground Scroll Saw Blade Kit is a must-have thing if you are purchasing a scroll saw. It fits all the modern models of saws like DeWalt DW788, Delta 40-560 and others.
Technical Details
The kit comes in a standard plastic package covered with cardboard on the backside. Here is how the package looks: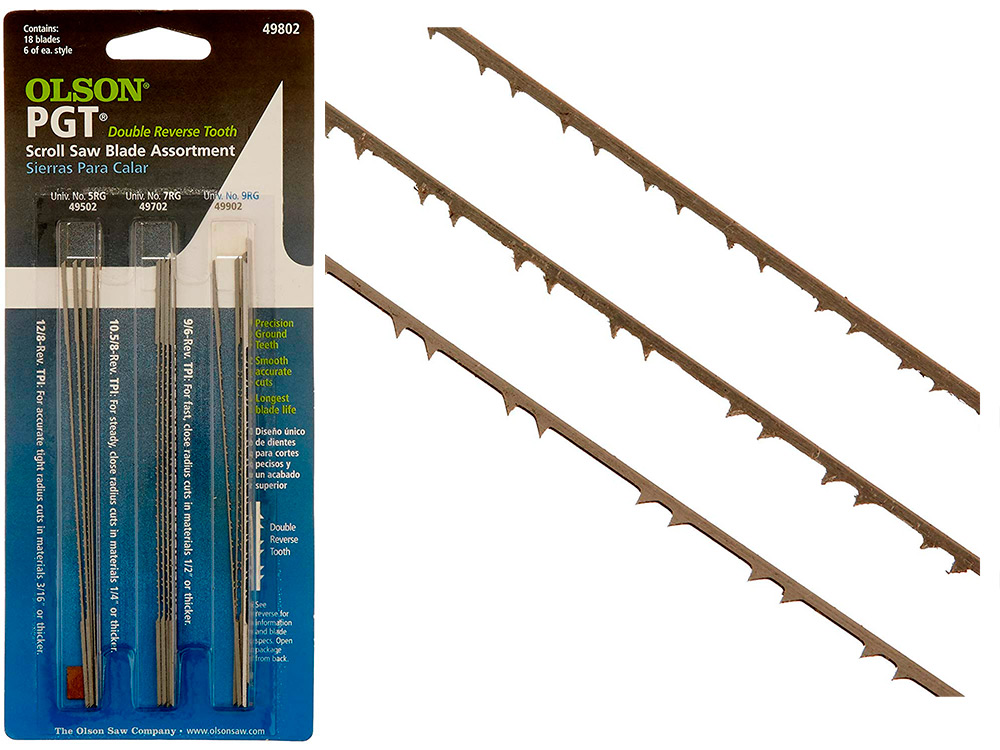 It contains 18 blades for different types of wood:
5RG 49502 : 12/8 Rev. TPI (6 pieces) - For accurate tight radius cuts in materials 3/16" or thicker.
7RG 49702 : 10.5/8 Rev. TPI (6 pieces) – For steady close radius cuts in materials 1/4" or thicker.
9RG 49902 : 9/6 Rev. TPI (6 pieces) – for fast close radius cuts in materials 1/2" or thicker.
Each group has its own section in a package, so you will not have problems identifying a blade. The length of each item is 6 1/2", which is a standard length for most of the modern saws.
This set has more than 120 customer reviews with 82% of 5-star ratings. This result is pretty good; people are satisfied with the product.
My experience
What do we expect from saw blades? We want them to be sharp, we want them not to lose sharpness fast, and we want them to be solid… When you take Olson Saw PG49802 blade in your hands and touch the teeth you understand that they worth the money. All the teeth are sharp and stay sharp for a long time.
They cut very well. I used them for cutting different types of wood: cedar, pine, oak, and even MDF. If you use the smallest blade and don't move too fast the cut will be perfect. If you do everything right, you will even not have to sand the surface after the work is done!
They are so sharp and solid that they can cut even aluminum… I didn't cut it myself, but I saw a review where a guy cut the aluminum using them. He reported, that the blade didn't lose sharpness too much after this. That's fantastic!
The only disadvantage you may face is that if the package is damaged during the delivery, the blades may move from one section to another. You will have to figure out which blade is which. The sections aren't separated from each other too much. I think the manufacturer could pay more attention to making the package better.
In general, I like these blades. They do their job perfectly. They can be used with different types of the wood and with different thickness. They hold the sharpness and they don't require replacement too often. It's a perfect choice. If you try them once you will be purchasing them again and again.