DeWALT DCD996 vs Milwaukee 2704
DeWALT and Milwaukee are the best manufacturers of power equipment in the world. In this review, I am going to compare DeWALT DCD996 vs Milwaukee 2704 hammer drills. Right now these are the best models of the manufacturers, that's why I decided to make a battle between them.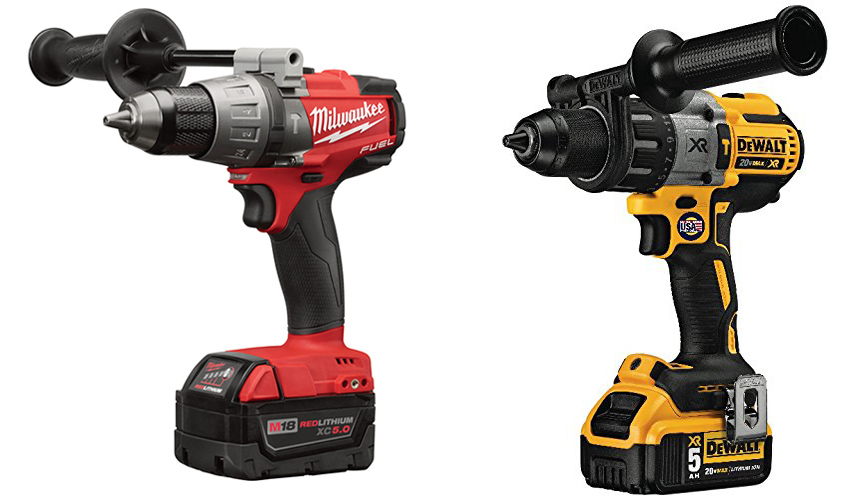 The first question you may ask: why you are comparing 20V drill of DeWALT against 18V Milwaukee? The answer is because the batteries are actually similar. The numbers at DeWALT's battery is just a marketing solution. The manufacturer decided to write 20V because it's modern tendency. If fully charged, both batteries are 20V. So the yellow tool doesn't have any advantage over the red one.
DeWALT DCD996 vs Milwaukee 2704 Power Characteristics
Both models are brushless. DCD996 has 3 speeds while 2704 has 2 speeds. The 3-speed approach gives more customization and freedom, but only if you know how to use the speeds. 2 Speeds approach is simpler to use and more straightforward. But in my opinion, 3 speeds are better.
Milwaukee has 1200 in-lbs of Peak Torque. DeWALT uses its own torque measure system: UWO (Units Watts Out), and this is really confusing. To be honest, I don't know why they can't use the traditional industry format. They could use traditional torque measurement system alongside with their own. Maybe that's because they think their system of measurement is much better. Anyway, both models have more than enough power.
The big difference is that the yellow tool provides 38 500 blows per minute, while the red one shows only 32 000 blows per minute. This may impact the hammer mode a lot. The DeWALT DCD996 may outperform Milwaukee 2704 when it comes to drilling in concrete, masonry, and similar stuff. If you are selecting a cordless drill for such tasks then you should pay attention to this characteristic. But to be honest, purchasing such hammer drill for regular concrete drilling is a bad idea. There are special dedicated tools for this.
Both models will accept quarter inch hex bits without difficulties.
Manufacturing: the DeWALT is made in the USA, so if you prefer US products I would advise going with it. Milwaukee is made in China. But we all know that Chinese products may have very high quality. Anyway, there is a difference here.
Design and Ergonomics
Both tools are well made. These drills are premium so all the parts are made of high-quality plastic, rubber, and steel. Both have almost the same size and weight. Milwaukee 2704 is a little bit thinner and smaller. It also has a slightly longer side handle. This is not the big difference but anyway.
The side handle of 2704 can be either left or right, while DCD996 allows you to adjust the position as you wish. It is a 360 degree handle and some users may need this option.
Unfortunately, both models have plastic side-handles. I don't know why such premium products offer such simple handles. They could make the rubberized handles because it may provide a better grip. For example, Makita drill is equipped with a rubberized handle.
The new unique thing the DeWALT has is a LED light with three different modes. The strongest mode is 20 minutes flashlight which is very good. It will light out any dark zone and to be honest it may help sometimes. In my opinion, it's a cool feature. The lower modes will give less light. I like 3 level of light customization because it allows saving power if you don't need too much extra light. The LED is located above the battery which is a very good position. The light points to where the drill exactly works.
Milwaukee also has the LED but it's located above the power button. In my opinion, such position is not as good as the competitor has.
Drilling and Screwdriving
Both tools work great. To be honest, I didn't see any difference drilling a wood. Both work fast and dive into the wood easily. Drilling a concrete is a task where you may feel a slight difference. In my opinion, DeWALT makes it faster. Maybe that's because it has more blows. Anyway, that's my personal opinion, but technically it is possible.
Which drill to buy: DeWALT DCD996 or Milwaukee 2704?
There is no absolute winner. Both products are great and work very well. If you read other reviews of real customers you will see that all of them are usually satisfied with the purchase. Experts who work with both models say that both are equal.
So how to select which one to buy? I would recommend purchasing the product according to your overall estimation. All customers use drills differently. Some people use it mostly for wood; others use it for concrete or as a screwdriver.
I personally prefer DeWALT DCD996 because it has more blows per minute, adjustable side handle, comfortable LED light that points to the right place. And it's yellow! Thanks for reading my review, hope it will help to make your purchase decision easier.