DeWalt DWE7485 8-1/4 inch Table Saw Review
This DeWalt DWE7485 review will tell you the most important things about this 8-1/4 inch Compact Jobsite Table Saw. You will find out about its features and if it's worth the money.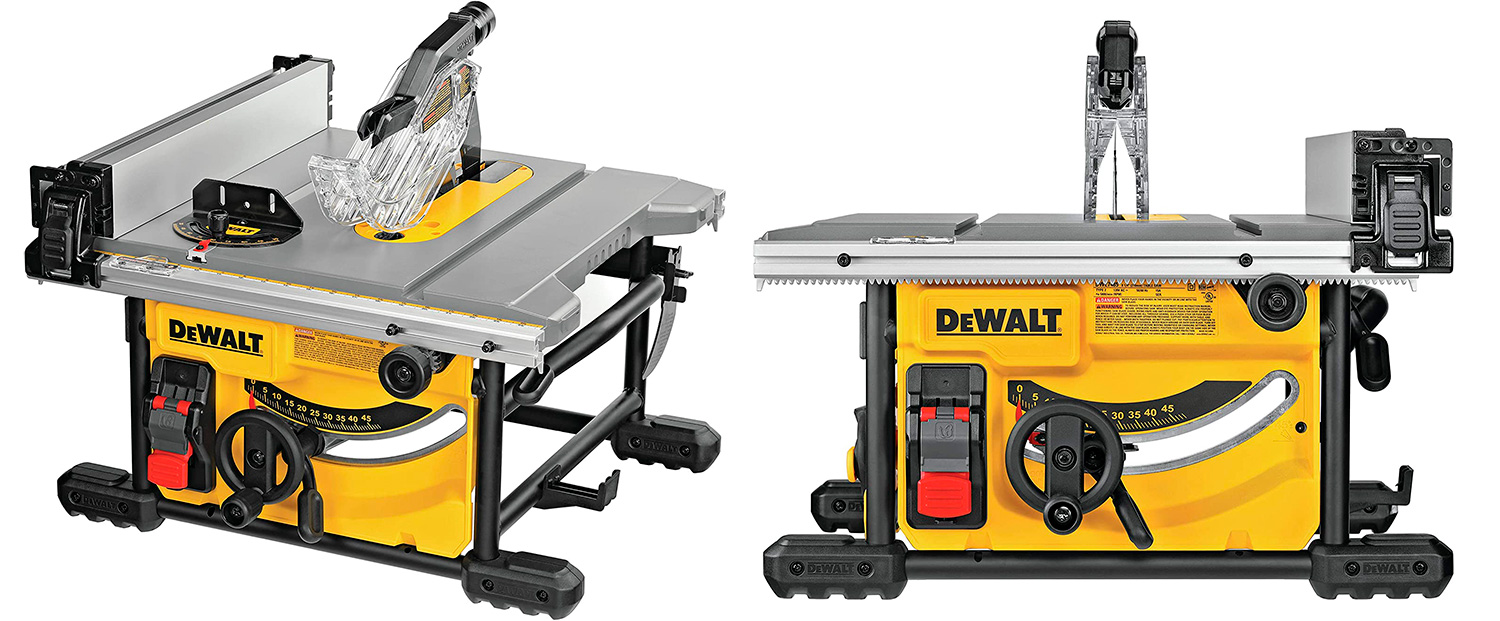 Build Quality
Overall build quality is very good. The product looks great and is very pleasant to use. The parts don't look cheap. Everything is made very well.
Many people over the internet talk that this product has a lot of plastic parts. That's correct. But if you have used the previous table saws made by DeWalt (which are very popular and have very high customer ratings) you will see that this new model is built in the exact same way. Yes, it has different plastic parts but they are very well made and look durable.
Blade and Table
This tool has an 8 and ¼ inch blade. The size of the blade is a little smaller than the previous models have. For example, the flagship DW745S has a 10-inch blade. DeWalt decided to shrink the size of the blade and also shrink the size of the table. Now the table is a little smaller.
Why did they decrease the size of the table? Because of recent changes in UL (Underwriters Laboratories) standards. They made some changed in late 2019 setting a "Golden Ratio" between the size of the blade and table for the table saws. The older models of the DeWalt saws will become unavailable soon because the company will push the newer updated models that meet all the new requirements.
Is the new table comfortable to use? Well, yes it is. But some of the people may feel that it's not large enough. You will not be able to cut any large sheet on it without an assistant. It's good for cutting small stuff but if you want to cut something large you will need a partner.
The table is made of hard plastic. The thing I don't really like is that the plastic will sooner or later lose its original nice look and will cover with tiny scratches.
Features
8-1/4 inch blade with 5800 RPM, but it starts very smoothly. It doesn't jump on start like some of the cheaper models do. You have a very smooth start and the saw reaches the top speed very fast. Engineers from DeWalt made a very nice job. If you don't like this smaller blade think about higher RPM. It allows for making cleaner cuts.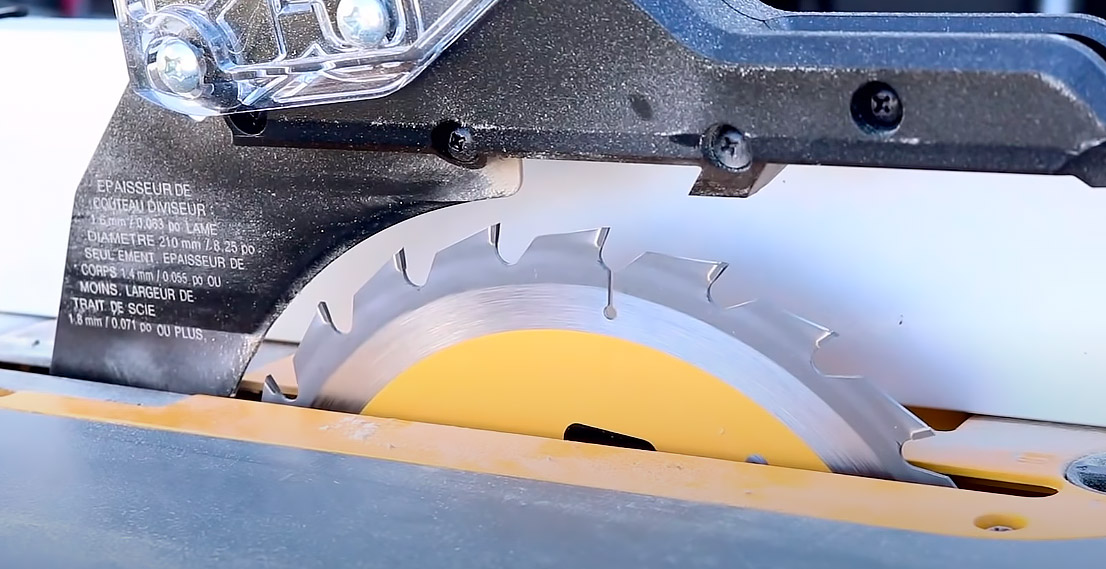 There is one thing to keep in mind: DWE7485 doesn't accept dado stack blades. It uses a standard table saw blades and it may be a deal-breaker for some people.
Switch Lock. One of the first features you will notice when you try to use the saw is the Switch Lock. It helps to protect the power-on button from accident push. It's a nice feature to secure it from kids. It would be even better if there is a way to lock this thing completely.
The rack-and-pinion system. It allows you to control the cuts and enlarge the basic size of the table with a special shelf. This system works so well and it's very easy and intuitive to use. It has an integrated measurement bar which is accurate enough for most of the tasks you may have.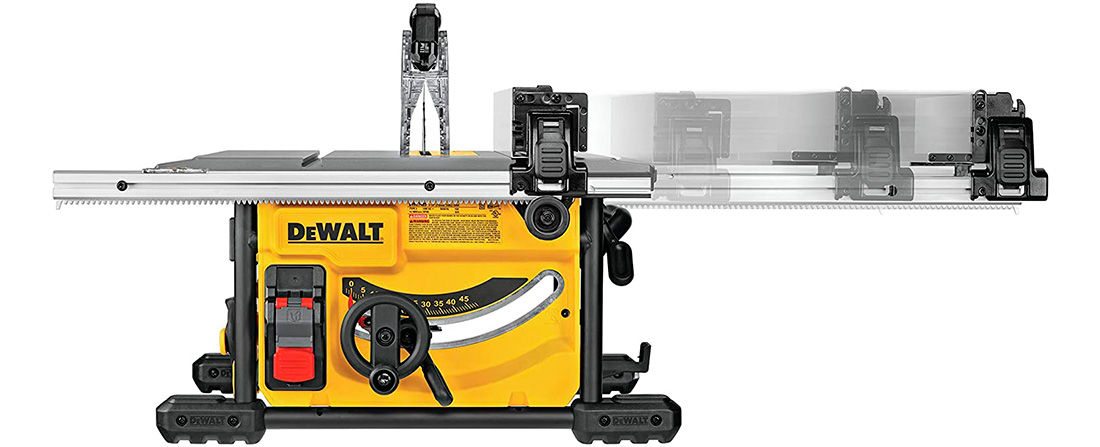 Miter gauge. It's made of thick steel and it's difficult to damage. You can completely remove it from the table if you wish. But there may be an issue: since the table is made of durable plastic, the place where you put the milter gauge in can be a little bit larger and the miter gauge may wobble a little bit. This isn't a big issue and you can fix it with blue tape, but still, it's not what I expected.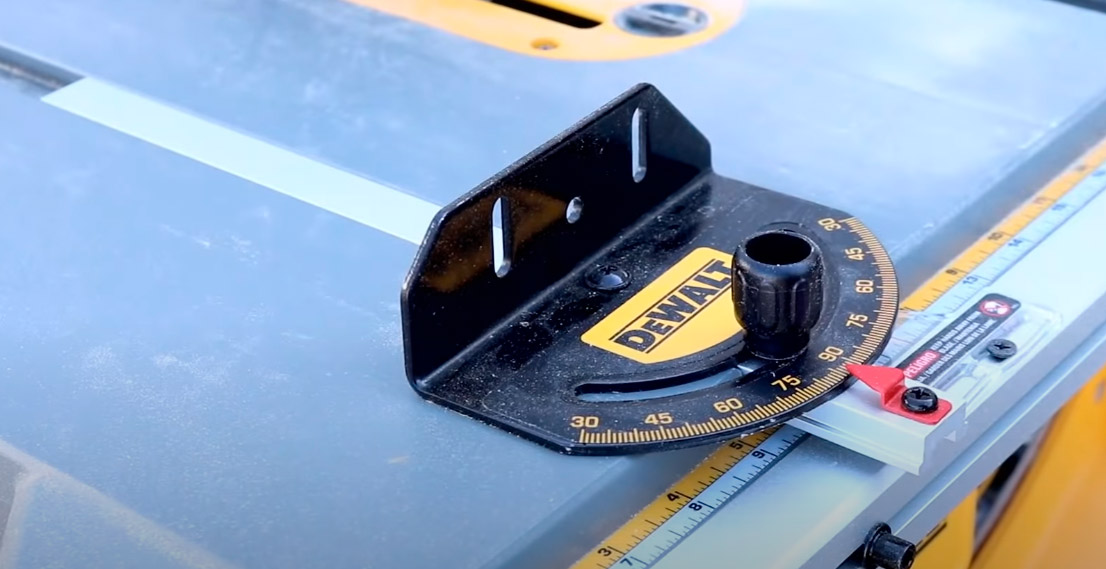 Two dust collectors. The blade is covered with a dust collection system. There is also another larger dust collector at the bottom part of the item. The bottom collector works much better than the top one.
Blade depth adjustment. You can adjust the depth of the blade with a special wheel for this which is located below the table. Using this wheel is very simple and you can adjust the height of the blade within several seconds.
Blade angle adjustment. It allows changing the angle of the blade from 90 to 40 degrees. It works pretty well for 90 and 40-degree marks because there are special adjustment screws you can use to make the 90 and 40 degree marks perfect. But unfortunately, it's not too accurate for all the angles in between. That's because you adjust the angle by moving a special handle back and forth. You don't have a wheel for this.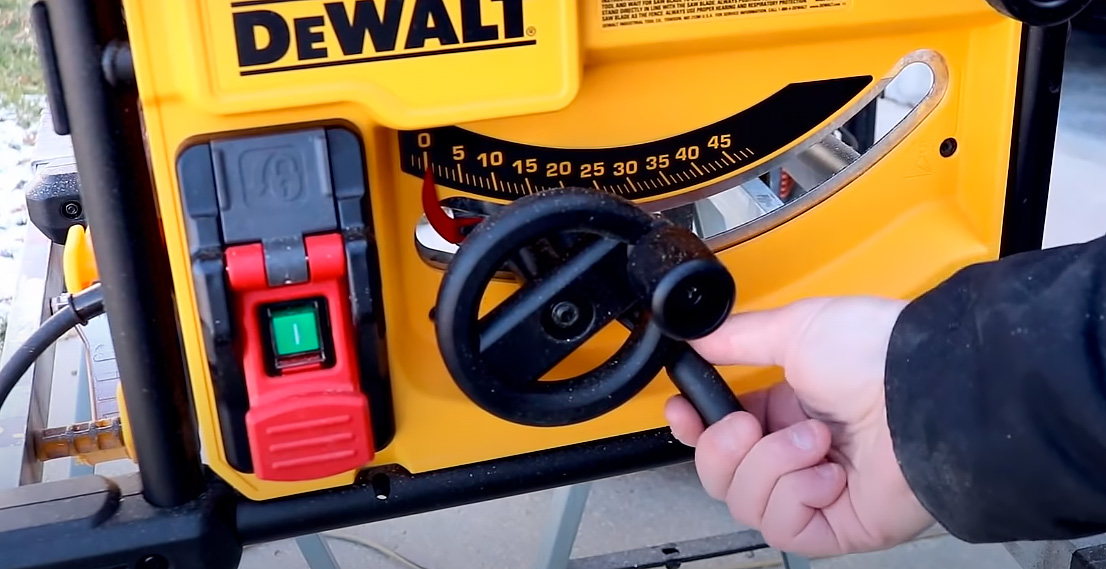 Cons
What you may not like is that this tool doesn't come with a stand. You will have either to put in on the top of your table or purchase a separate stand. It's called DEWALT Table Saw Stand for Jobsite and it will cost you about 70 USD which isn't cheap.
I also don't like how the blade angle adjustment works. It's not too accurate for all the angles between 90 and 40 degrees. Some of you may also don't like this.
The table is also a little bit small for me. I prefer to have more space and I don't really like this table size shrinking.
In general, DeWalt DWE7485 Saw is a good product. It's made well, it has all the required wrenches right out of the box, and it's very comfortable to use. It has all the features most people need. However, it's not for cutting hardwood, thick wood, or for really large sheets. It's not a professional tool. It's a very nice product if you are a beginner or if you want to have a compact saw at home and you don't cut pretty often.
What I really recommend is that you read a manual after you purchase the tool. The manual will explain to you how to use the product and how to adjust all the things perfectly.