DeWalt DCS367 Review
This is a detailed review of DEWALT DCS367 20V Max XR Brushless Compact Reciprocating Saw, one of the best compact saws on the market. This tool is designed and built for the demolition operations, it's very comfortable and lightweight.
It's compact: only 14 inches long and 8.5 inches high. The weight is also small: 6 pounds and 5 ounces with a battery attached. The weight is very important because it allows working for many hours without getting tired.
1 1/8 inch stroke length and it moves very fast: up to 2900 SPM.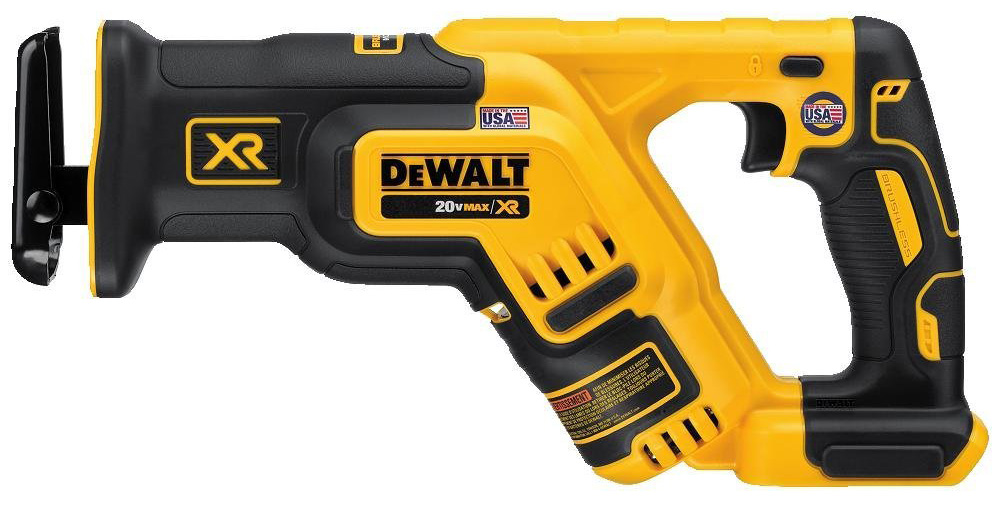 This tool is great for many different tasks because you can switch between many different bits according to the goal and to the materials. You can use blades for cutting metal, wood and plastic:
18 TPI Metal Only blades made for cutting different metals. Use these blades if you want to get a nice edge at the end.
14 TPI Metal Only blades are also made for cutting different metals. But they are more aggressive than the previous. They don't give such a smooth edge but they cut faster. These blades are amazing for cutting plastic pipes and similar stuff.
6 TPI Wood with nails blades are for cutting wood with nails. I recommend buying the newest black blades because they have a longer life. The old yellow are not as good as these.
Carbide Blades are used for cutting hard surfaces like stainless steel.
Which blade to select? Everything depends on the material you are going to cut and on the result you want to get. Basically, if you want to get a smoother cut select a blade with more TPI (Tooth Per Inch). The cut will be smooth but it will take more time to finish work.
Pay Attention: the blades are not included. When you buy a bare tool you receive the saw only. They are even not included in the saw kit. You have to buy them separately. I recommend purchasing them as a kit because you will get an organizer and they will cost you less.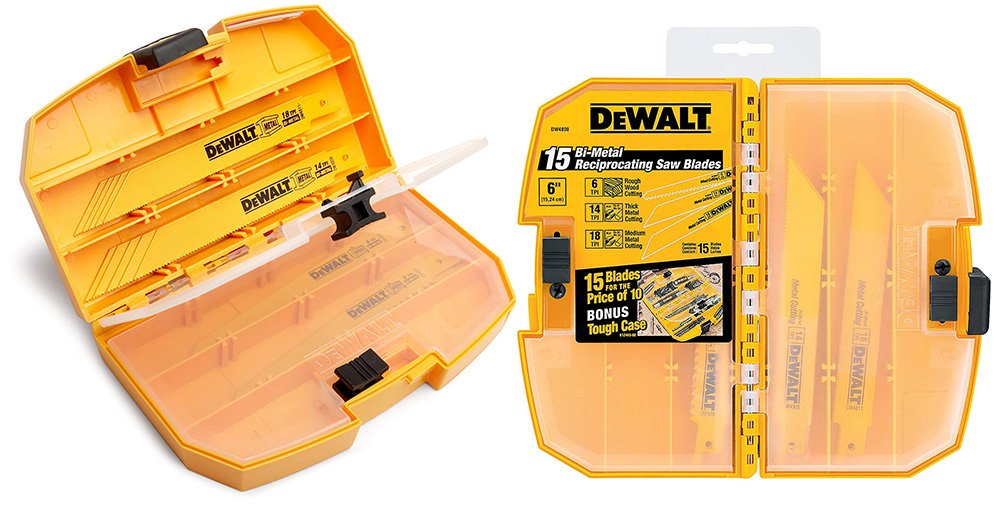 This kit contains 6 TPI, 14 TPI, and 18 TPI blades which will be enough for absolutely any task you have. And the price is very good right now. Here is a direct link to this kit on Amazon.
Installing the Blade
The first thing you need to do is to remove the battery! It's important! You can set the blade in 4 different positions of the teeth:
pointed down (the most common position)
pointed up
to the left
to the right
The changing process is very easy and takes seconds.
As for the foot this thing has a pivoting foot. It doesn't have extendable foot just because it is designed as a compact tool. It can be used in a place where you can't reach with your regular saw.
It's very important to hold this tool properly. You must always take the main handle with one hand and the rubber grip area with another. This will give you enough balance and control. The tool is strong and you must hold it with both hands to avoid damaging yourself.
Battery
The default battery type for DCS367 is 20 AMP battery, but you can also use 60 AMP FlexVolt battery with it. It will make the saw to work for longer time. But the negative side is that it will also increase the overall weight.
Some people think that 60 AMP battery will make the tool stronger bit that's a mistake. The battery doesn't give any power, it just increases the working time.
I prefer to use two 20V batteries + charger and switch between them. One battery is charging while the other is working.
Extra features
LED light turns on when the trigger is depressed and it stays for 20 seconds after the trigger is released. The light is bright and is very useful. It points straight to the cutting area.
3 years limited warranty, 1-year free service, 90 days money back guarantee
My experience
This is a very powerful saw and it's very comfortable to use. As any other DeWalt product, it is very ergonomic. It allows to point the blade in different directions and this helps sometimes. I am satisfied with how it works and how it cuts. It is useful for many different tasks. It cuts hard wood with nails easily and even steel. As for me, this is one of the best compact saws on the market.
As for the purchase options, it comes as a bare tool or as a kit. The kit includes the saw, a 5 AMP battery and a charger station. The blades can be bought separately.