DeWalt DW4890 Reciprocating Saw Blades Set Review
If you buy a DeWalt reciprocating saw like DCS367, for example, you will have to make another purchase in order to start working: you will have to buy blades. That's not about DeWalt only, all the reciprocating saws on the market are sold without them. In this article, I will review DEWALT DW4890 Bi-Metal Reciprocating Saw Blades Set. I will tell you about the advantages and the disadvantages it has.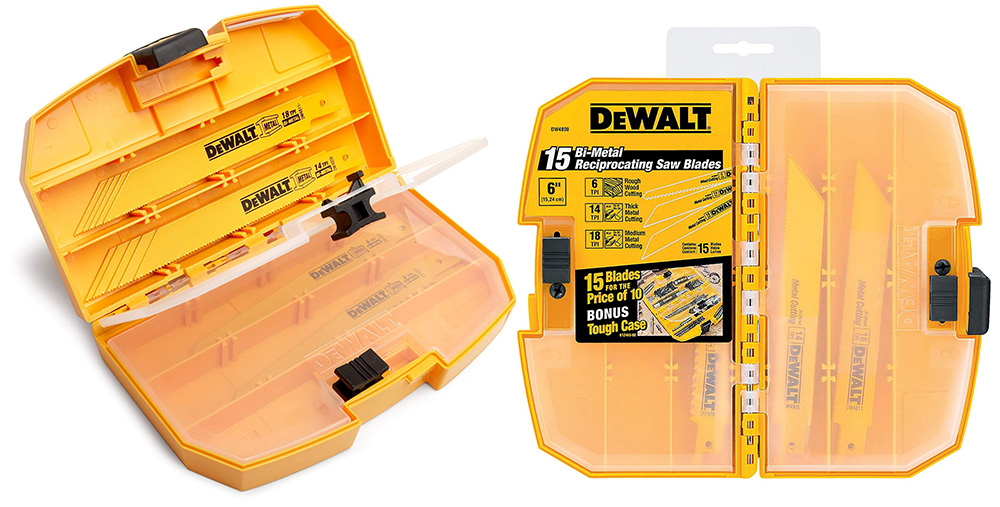 The kit contains the following stuff:
18 TPI Medium Metal Cutting (5 units) make smooth cuts but not very fast in comparison with others.
14 TPI Thick Metal Cutting (5 units) work faster but the edge isn't very smooth.
6 TPI Raw Wood Cutting (5 units) are for wood only.
Plastic case for carrying all these things.
All the blades are 6 inches (15,24 centimeters) long. They are made of high-quality steel with 8% cobalt reinforced teeth. They are very flexible and durable.
The kit has a lot of positive customer reviews and the average rating on Amazon is 4.5 from more than 260 ratings. 70% of the votes have 5 starts. Customers like this product.
The set comes in a very nice and useful plastic case. But there is one thing you need to keep in mind: this case is made of thin plastic. If you expect this to be as solid as the standard DeWalt organizers you will be disappointed. This box is thinner and less durable.
I saw several reviews where people were upset with this fact. They expected it to be thick and solid, but it is not. So don't expect the case to be something special. Think about it as just a plastic box for your blades.
Is it bad? In my opinion, it's not. A solid case requires more materials and if it was solid the price for the whole kit will be higher.
Though the case isn't amazing, it does its job well. All the blades lay in the same place and it's easy to take them with you. It's not absolutely perfect and sometimes they change their position. It's a problem of the vast majority of the organizers. If you take this kit with you very often, some of the blades may change their place. It's not perfect for this but if you keep it at home it is great. I like it because it allows me to keep things well organized.
The thing I like is that the blades don't fill the box entirely. You may place your own blades or some other stuff there.
As for the price, this offer is great. I recommend visiting Amazon and compare the prices. This kit with 15 blades and a plastic case will cost you about 24$. This is a very good deal especially if you use your Reciprocating Saw very often. I don't recommend purchasing a single blade just because of the price. Purchasing a set is much better. You get more and receive a better price per unit.
DW4890 vs DW4892
Which product is better: DW4890 or DW4892? Both have almost the same price and both include the case. But the box in DW4892 occupies less space and it's for blades only. Some may find it more useful because of this. The blade's length in both kits is also different and you need to compare and decide which are better for your tasks.