DeWalt DCC020IB Cordless Inflator Review
In this article, I want to introduce you to the DeWalt DCC020IB - a brand new cordless inflator by DeWalt. I will tell you about the main features of this product and will share my own experience with it.
The inflator is made of quality materials and all the surfaces feel pleasant. The core is solid and it will hardly be damaged if you accidentally drop it. It's well balanced and has a handle on the top. The handle is located right in the center. Total weight is 5.5 LBS (2.5 Kg) without a battery which isn't too much. What I like is that there is enough space below the handle for your fingers. You can easily take this thing if you have gloves on your hands.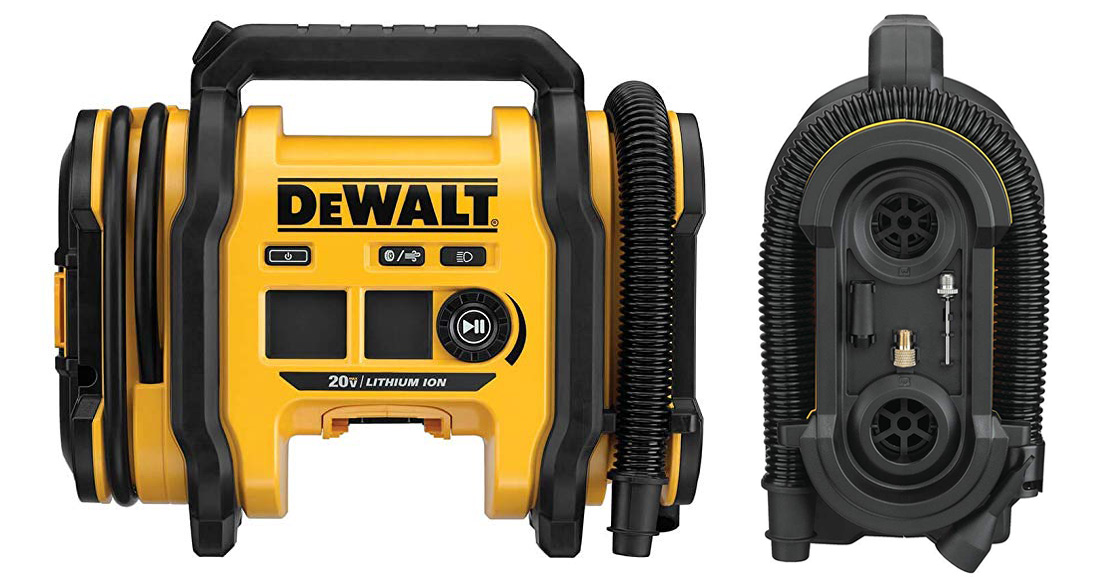 The inflator has two separate LCD monitors, a control wheel and buttons on the front. LCD monitors allow a user to control everything. The left monitor shows the progress when the tool is working and you can see how much work is already done. The right LCD screen displays the desired PSI when you rotate the control wheel.
The black wheel is used to set the PSI and start/stop the tool. Max PSI value you can set is 160. The wheel is large and easy to use. All the control buttons on the front panel are also large and easy to press even if you wear gloves.
As many modern inflators, this thing has an auto-stop feature. All you need is to set the desired PSI using a wheel and press the start button. The DCC020IB will automatically stop working when the job is done.
When you buy this tool you receive special accessories for inflating/deflating different types of items including footballs, tires, and mattresses. All the accessories are stored in an onboard store and you will always have all of them with you. The store located on the left side.
The thing you may not like is that it doesn't include an easy snap-on connector. You will have to buy it separately and it's a disadvantage. Very often such connector is more preferable than the standard connector that comes with the pump.
The LED light is another useful feature. It's very helpful when you need to fix a tire at night.
As for the warranty, if you buy it from the official DeWalt website you receive 3 years Limited Warranty, 1 year of free service and 90 days money back guarantee.
Powering
This thing can be both corded and cordless. You can power it by using any 20V MAX battery (including FlexVolt), 12 volt DC car adaptor or 110-volt AC plug. Pay attention that the batteries and the 110-volt plug are not included! The product comes with 13.75 FT length DC car adaptor only and if you want to use it without a cord you will have to buy a battery.
If you want to use it with an AC plug, you will have to buy it separately for about $30. Is there a reason to buy it? In my opinion, no. Most of the people will not need the AC plug at all. A battery or DC adaptor is enough in most cases.
Customer Opinions
DeWalt DCC020IB has many positive customer reviews. Most of the people like the product and give it high rates. People even use it for inflating truck tires which isn't an easy task for an inflator.
Practice
I have used it several times for my car tires and I am absolutely satisfied with how it works. It is fast even with a battery. It takes about 2.5 minutes to fill a standard tire to up to 45 PSI. This is a good result! If you use it with a battery, you will easily be able to fill 4 tires without recharging.